FOL Tailgate Volunteers Are Community Ambassadors
Where can you meet your neighbors? Where can you meet people from all over our country? Where can you interact with people from newborns to those past 80? Where can you see an amazing array of dogs?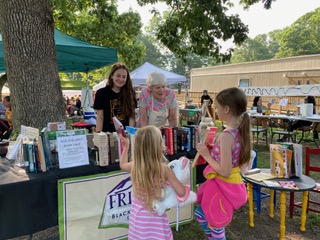 All of these experiences can be found by serving at the FOL tailgate table! Now when you arrive, tables are set up and then taken down at the conclusion of the market. You make the circle of books move from table to the hands of readers.
It is a fun way to spend a Saturday morning. Find a friend and sign up here for a Saturday at the tailgate as an FOL ambassador to our community.