Black Mountain Blooms Seed Lending Library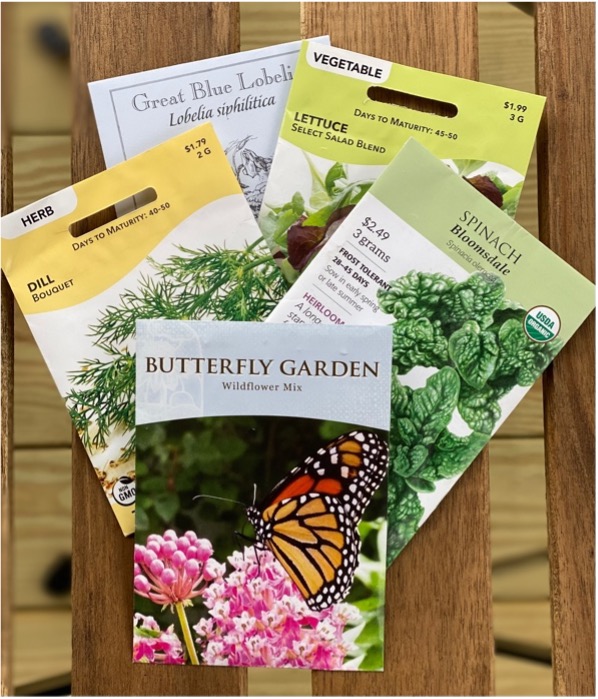 Did you know that you can check out seeds at the library? The Black Mountain Blooms Seed Lending Library offers a selection of free seeds along with resources to grow your garden, educational Sowing Circle programs, and community connections.
The Seed Library, located towards the back of the library, is typically stocked with seeds from early February through October. Complementary resources including soil test kits, seed catalogs and helpful handouts can also be found at the Seed Library. You can take seeds each season, and if you grow seeds, you can donate them for others to check out. We encourage participants to grow what they're interested in and have fun. Our motto is Grow, Learn & Save.
Learn More
Honoring the Hamil Family
The Seed Library began with a donation honoring Elaine Hamil and wouldn't be possible without the generosity of the Hamil family. Harry and his late wife Elaine were innovators in the local food community in Black Mountain, founding a movement that has deep roots.
2022 Seed Donations and Partners:
Appalachian Creek Nursery
Asheville Parks and Recreation
BB Barnes Garden Center
Dr. John Wilson Community Garden
Hudson Valley Seed Company
Select Seeds
Southern Exposure Seed Exchange
Sow True Seed
The Chas. C. Hard Seed Co.
The Thomas Jefferson Center for Historic Plants
Thyme in the Garden