Art in Bloom Features Library Gardens
We are excited to again be a stop on the annual Art in Bloom garden tour hosted by the Black Mountain Center for the Arts on Friday, June 16 and Saturday, June 17 from 10am-2pm. At the Black Mountain Library, we have a Seed Lending Library, a Wildflower Pollinator Meadow, Rain Garden and Community Gardens. 
Inside the library a vintage card catalog houses summer vegetable and herb seeds while soil sample test kits and other gardening resources are also available.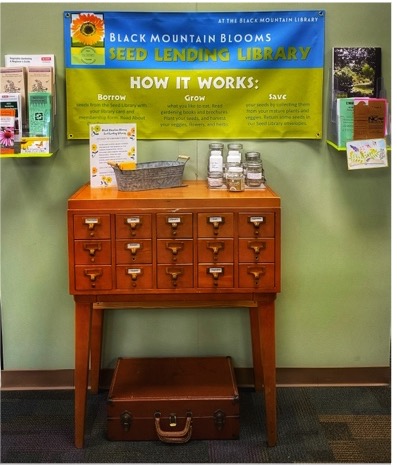 Our Friends of the Library Bookstore has a good selection of gardening books available for purchase. New this year – we will feature a Black Mountain Library Garden coloring sheet created by local artist Stephanie Sipp. Stop by to get a free coloring sheet perfect for both adults and children. On the library grounds, our Rain Garden helps to clean water flowing off the surface of the parking lot before it can enter and pollute our waterways while our Pollinator Meadow utilizes native plants to provide a habitat for pollinators such as bees, butterflies, and birds. Our Community Garden raised container beds are planted and maintained by members of our community. While it's early in the season we invite you to take a look at what has been planted including a scent garden and pollinator friendly garden.